Estate Planning for a Blended Family
Aug. 29, 2023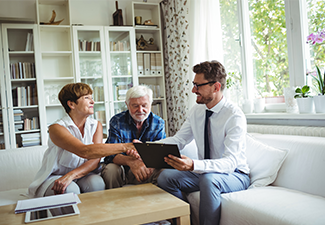 Creating an estate plan is always a delicate matter in any family, but if your household belongs to what is known as a "blended family," the situation can be even more complicated and sensitive. A blended family, which is a couple with children from previous relationships/marriages, is one of the fastest-growing segments of families in the United States.
If you have children from a previous relationship or marriage, it is critical that you plan to make sure that each member of your family is protected. As an estate planning attorney in Ocala, Florida, I understand how important a well-drafted plan is for a blended family. At Michael A. Siefert, P.A., I can help you put together an estate plan that accomplishes your goals and reflects your wishes. I serve individuals and families in Ocala and throughout Marion County. Reach out today for skilled support.
Why Estate Planning Is Important in Blended Families
Blended families are also referred to as "stepfamilies." These families consist of two individuals, one or each of them with their own children, who get married and go on to have children together. Estate planning becomes even more important—and, unsurprisingly, complicated—for people from blended families. With your biological children, stepchildren, current and former spouses, and extended family members to think about, it is vital that you go about creating an estate with utmost scrutiny and caution.
Estate Planning Challenges for a Blended Family
Many people who form a blended family have the last will and testament and other estate planning documents created in a previous relationship or marriage. In that situation, the biggest challenge arises if those individuals do not update their estate planning documents to reflect changes in their lives, and their assets end up being transferred to their former spouses.
Another challenge may arise when people do not bother to create an estate plan at all, even though having a comprehensive plan in place is a must when you have a blended family. Without an estate plan, certain family members—including your own biological children—may be excluded from any inheritance, which can result in lengthy, costly, and hostile legal battles among the family members.
The 5 Essential Steps When Creating an Estate Plan for a Blended Family
The estate planning process consists of a series of steps all of which serve one main purpose: to have an effective plan tailored to your specific goals, needs, and family dynamics. While each family is unique, some of the most essential steps to take when creating an estate plan for a blended family are:
Take advantage of beneficiary designations. Many people overlook the importance of beneficiary designations in the estate planning process. Beneficiary designations allow you to transfer certain assets directly to the people you name, regardless of what your will says. For this reason, when entering a blended family, you may want to set/change beneficiary designations on your retirement accounts, life insurance policies, and other assets to reflect your current wishes and family situation.
Create a comprehensive will. When creating a will, you should give careful consideration to each family member's needs and circumstances. The last will and testament allows individuals from blended families to ensure fair distribution of assets among their spouse, biological children, stepchildren, and other family members.
Establish a trust. Trusts offer much-needed flexibility for blended families. With a trust, you can make sure there is ongoing support for your kids from previous relationships or even set up a trust that would hold assets for your children until they reach the age of 18.
Appoint the executor. When creating a will, you can select the executor of your estate. This person will be responsible for managing the administration of your estate and ensuring that all of your wishes are fulfilled after your death. In a blended family, there can be several possible candidates for that role. It could be your spouse, your adult child from the new marriage, or your adult children from a previous relationship, among others. The choice is yours to make.
Consider a prenuptial or postnuptial agreement. A prenup or postnup could be a valuable addition to your estate plan. A prenup or postnup can help protect the assets you worked hard to acquire before the marriage and, if you wish, ensure that your separate, pre-marriage property is preserved for your children from previous relationships.
These are the five important steps to take when you have a blended family and are considering creating an estate plan that would best reflect your current family situation.
Common Mistakes in Estate Planning for Blended Families
As an estate planning attorney at Michael A. Siefert, P.A., I often see people from blended families make the same mistakes repeatedly. Below is a list of some of the most common estate planning mistakes for blended families:
1. Not Realizing That Fair Is Not Always Equal
The statement "fair is not always equal" is very true for blended families, and the sooner you acknowledge that fact, the better. The disparity between what's fair and what's not is even bigger when one or both spouses have children from previous relationships. In a blended family, you cannot adopt a one-size-fits-all approach when it comes to creating an estate plan because there are many unique factors that should be considered, including the protection of your biological children, stepchildren, and extended family members.
2. Not Updating Beneficiary Designations
Many people who get married after divorcing their ex-spouse forget to update beneficiary destinations on their financial accounts, retirement accounts, and insurance policies. Just as life changes (e.g., you get a divorce and then find a new partner), so should your estate plan.
3. Not Rewriting the Will
Your last will and testament determines where most of your assets will go after you are gone. For this reason, it is imperative that you keep the will up-to-date so that everything in the document reflects your current wishes and family dynamics.
4. Thinking They Can Do It On Their Own
Approaching estate planning without legal counsel may not be a good idea, especially for blended families. There are many things that need to be taken into consideration when you have children from previous relationships and want to create a solid plan. Without legal assistance, you may not be able to deal with the challenges and legal issues that could arise when putting together an estate plan.
Legal Solutions Tailored to Your Family
Individuals from blended families have a variety of complicated decisions to make when it comes to creating an estate plan to preserve their legacy and protect their loved ones. As an estate planning attorney with decades of legal experience, I can take the time to listen to your story, understand your situation, consider your wishes, and help you anticipate different scenarios and outcomes. Contact me to schedule a free case evaluation now.