How Can I Change My Will?
Aug. 18, 2022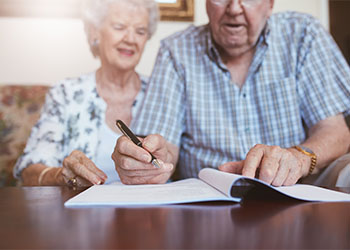 As life and family situations change, it may become necessary to make changes to your last will and testament. If life circumstances or major events require you to update your will, you may wonder, "How can I change my will?"
Trying to change your will on your own may seem like a daunting and overwhelming task. That is why you will need to seek the assistance of a skilled estate planning attorney to help you navigate the process of changing your will. As a wills attorney with an office in Ocala, Florida, I assist clients with drafting, executing, and changing wills and other estate planning documents.
Reasons You May Want to Change Your Will
It is generally a good idea to change your will when you experience major changes in your financial and personal circumstances. Even if nothing that may necessitate changing your will happens, it still makes sense to review your will every four to five years to ensure that its provisions accurately reflect your current wishes. Some of the most common reasons to consider changing your will are:
Changes in your family situation. If your family situation is not the same as when you created the original will, you may need to make changes to the document. Ask yourself, "Does my current will accurately reflect my wishes now?" If the answer is "no," it may be time to update your will.

Changes in your relationships. Our relationships with other people change over time. There is no way around it. Those changes in relationships may prompt changes in your will because it is crucial to keep your beneficiary designations up to date.

Move to another state. Laws that govern estate planning vary from one state to another. Thus, just because your will is valid in one state does not mean it is valid in another. For this reason, if you relocate to another state, you need to make sure that your estate planning documents are still valid.

Changes in tax or estate law. State and federal laws governing taxes and estates constantly change. That is why it is important to keep an eye out for legislative changes that may impact your current will or other estate planning documents.

Changes in your assets. If you acquire, inherit, sell, or lose assets, you most likely need to consider changing your will. The same can be said if there are any significant changes in the value of your assets.
The list of reasons to change your will does not end there. There are many other circumstances and events that may require you to revisit your current estate plan.
Your Options for Changing Your Will
Generally, there are two options for changing or updating your last will and testament:
Make a codicil. One of the options to change your will is to create a codicil. The term "codicil" refers to a legal document that amends specific provisions of the original document. Basically, a codicil supplements the original will by adding something to the document or changing its provisions. Making a codicil may be appropriate when you need to make minor changes to the will (e.g., one of the beneficiaries got married, divorced, or died).
Create a new will. In most cases where changes to the will are not minor, it may be more appropriate to revoke the existing will and create a new one. When writing a new will, you can create a document that spells out your current wishes. However, it is critical to revoke the previous version of your will so that it does not cause confusion for your loved ones and the probate court.
If you cannot decide between making a codicil or creating a new will, speak with a knowledgeable estate planning attorney to discuss your unique situation.
How an Attorney Can Help Change a Will
When people need to change a will, many of them think they can do it on their own. However, making changes to a will or creating a new document without an attorney can be a challenge. After all, you do not want to end up with an invalid will.
If you are considering changing your current will, contact a skilled attorney to help you with the process. An attorney will ensure that you follow all of the steps to ensure that your will remains valid after you make the necessary changes.
When working with an experienced wills attorney, you can avoid potential issues and mistakes along the way. Your lawyer will make sure that your updated or new will meets all the legal requirements and is properly formalized to ensure its validity.
Estate Planning Guidance You Can Trust
If your circumstances have changed and you need to change your will, reach out to legal guidance from a knowledgeable attorney. As a wills attorney at Michael A. Siefert, P.A., I represent individuals and families in Ocala, Florida, and throughout Marion County by helping them ensure that their documents are properly drafted, signed, and executed. Reach out to my office today to discuss how you can change your will.