Safeguard Your Family's Finances
Wills and trusts are an excellent way to make sure your family gets the financial support they need if something happens to you. They allow you to leave money for minor children or disabled adults under your care. They also let you designate guardians or trust managers so you know your family is left in good hands.
Michael offers sound legal counsel to those drafting a will or trust in the Ocala, FL area. We'll take your family's best interests to heart and help you legalize your documents right away.
Contact Michael A. Siefert, P.A. today to ask about wills and trusts. You can come to our office in Ocala, FL for a free consultation during the week or set up a weekend appointment.
3 Reasons to Set up a Will or Trust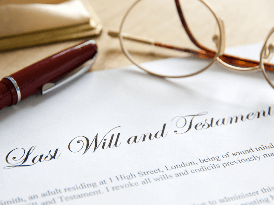 Drafting your will or trust might not seem urgent, but you still shouldn't wait to start the process. Here's why:
If something happens to you unexpectedly, your family could be left fighting for your assets.

Once you've drafted your will or trust, it'll be easier for you to make changes later on.

Completing your will or trust can put you at ease and eliminate stress for both you and your family.
Call 352-414-0647 now to learn more about the benefits of wills and trusts. You can start drafting yours with a reputable estate lawyer in Ocala, FL right away.