The Probate Process in Florida
March 3, 2022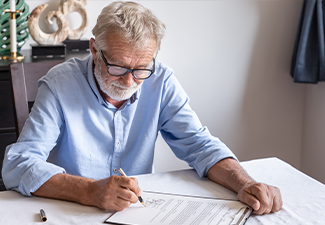 If you've already written your own will or have been named the executor in someone else's will, you may have heard about the process of probate. Even so, you may still be confused about what it is and what you need to know about it. Probate looks a little different in every state, and it's important you understand what to expect from the process—whether you're the one who is planning an estate, or if you'll be administering the will of a loved one.
I can help educate you about probate so that when the time comes, you'll be more confident and familiar with what's expected of you. As a probate attorney, I'm happy to help individuals and families in Ocala, Marion County, and the rest of Florida work through probate and any other estate planning needs. Reach out to me—Michael A. Siefert, P.A.—to set up a consultation.
Who is Involved in Probate?
The process of probate can get complicated depending on the size of the estate. In its simplest form, probate will involve the executor of the will and the court, although many people find that probate will also have to involve lawyers, appraisers, creditors, court clerks, as well as all named beneficiaries.
The most important role is that of the executor who is in charge of administering the will. If no executor is named, then the court will appoint an administrator or personal representative, and this is usually a surviving spouse or an adult child of the deceased. The executor has a big job and must stay organized, but they can use assets from the estate to pay themselves for their time as well as pay for attorney fees, court fees, appraiser fees, and any creditors.
It's helpful to consult a skilled attorney to guide you through the probate process in Florida. Additionally, you may decide that you want legal assistance through the entire estate planning process from start to finish.
The Probate Process in Florida Explained
When you go through probate in Florida, you generally have two main options depending on the size of the estate. If the decedent's assets have already been transferred into a trust, then the assets would not have to go through any probate process since ownership would be in the trust's name. Only assets that are solely owned by the decedent must go through the courts. Assets that were jointly owned would automatically go to the other party, and any investment or insurance policy that already has a named beneficiary could transfer directly to them and bypass probate.
Formal Administration: Formal administration is for any estate valued at over $75,000 and when there are debts that need to be paid to creditors. This is the most common type of probate and a judge will supervise the entire process. You will first have to file documents with the court in the county the decedent died in. Many people choose to hire an attorney to help with this. You will then need to administer the estate, which includes locating and inventorying all assets, filing a public notice, contacting all beneficiaries and creditors, paying off debts and taxes, having assets appraised if necessary, and distributing assets after the court has formally closed your case.

Summary Administration: You can go through a summary administration if the estate is valued at less than $75,000 and if there are no objections to this process by creditors. This option can be quicker, but it also leaves beneficiaries liable to pay off any debts that creditors pursue within two years of the date of death. This means an heir could receive an asset and later have to use that same asset to pay off past due debt.
Lastly, the estate may qualify for disposition without administration, but this is less common. This process will only be approved if the decedent's assets are all exempt from probate and any non-exempt personal property is valued at less than the cost of the funeral, burial expenses, and any medical expenses incurred in the last two months of the decedent's life.
How Long Does the Process Take?
Formal administration takes the longest, and it's not uncommon for probate to take six to nine months to complete—although very complex estates could take up to a year to complete. Because estates that qualify for summary probate are much smaller and you don't have a mandatory waiting period for creditors to pursue debts, this type of probate can be quicker. Typically summary administration can be completed in one month.
Getting the Experienced Legal Support You Need
If you have questions about what your role will be as the executor of an estate and are in the Ocala, Florida area, call me today to set up an appointment. At Michael A. Siefert, P.A., I've committed my practice to providing thorough information to my clients while remaining empathic during this difficult time for you and your family. I'm happy to help with any aspect of the probate process, no matter how big or small.